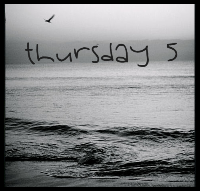 So once again I am starting something new with my blog (haha). I love all these weekly blog themes. Mrs. Gambizzle over at
Life as Sailor's Girl
hosts this cute little Thursday Five where she gives you five words and you have to incorporate them into five things that happened to you over the past week. Cute right?
This week's words are:
happy-go-lucky
delighted
ecstatic
giggly
joyed
1. I was
happy-go-lucky
that we FINALLY got the money from our tax credit for the house :) Talk about an awesome start to the week!
2. I was
delighted
to get to go to lunch with my girl friend Jessica. I have been craving Ruby Tuesday's salad bar like WOAH!!!
3. I was
ecstatic
to find out that I am 2cm dilated at my baby appt. That puts a HUGE smile on my face every time I talk about it :)
4. I was
giggly
when Little Miss kept telling EVERYONE she saw or talked to on Wed. that it was her birthday ... It was like she expected EVERYONE to know and tell her Happy Birthday. Even random people, like a lady waiting to get a table at Ruby's ... she CRACKS me up!
5. It was true
joy
when I saw baby *J* on the ultrasound monitor. After not seeing him since I was 20 weeks, seeing him all big, chunky & knowing that he is safe and sound makes me oh-so-very happy!!