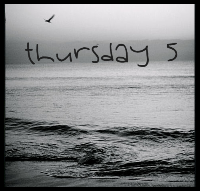 Mrs. Gambizzle over at
Life as Sailor's Girl
hosts this cute little Thursday Five where she gives you five words and you have to incorporate them into five things that happened to you over the past week.
This week's words are:
Happy
Joyous
Giggly
Lucky
Thankful
ONE.
I am so very
happy
to know that I will be getting this gallbladder OUT of me soon.
TWO.
I am feeling so so so
joyous
that my bestest friend will be here in just a short 16 days -- Eeeek!
THREE.
I get so
giggly
every time I see a smile on my baby boys face :)
FOUR.
I am so
lucky
to have two amazing little kiddos that fill my heart with more love then I have ever known.
FIVE.
I am so so so
thankful
to my hubby for letting me sleep in or nap when I am in pain or feeling crappy.